Shelf Awareness shared this link to a short film called

The Last Bookshop

, written by Richard Dadd (who co-directs with Dan Fryer), features Alfred Hoffman and Joe Holgate and "imagines a future where physical books have died out."
According to the filmmakers, "We wanted to contribute to the cultural debate with our own celebration in support of these glorious independents and their shelves of treasures. So with the help of some

remarkable independent bookshops

, and a lot of talented friends, we have been able to make our idea for The Last Bookshop into a reality. We hope you enjoy this film and share it with your friends...."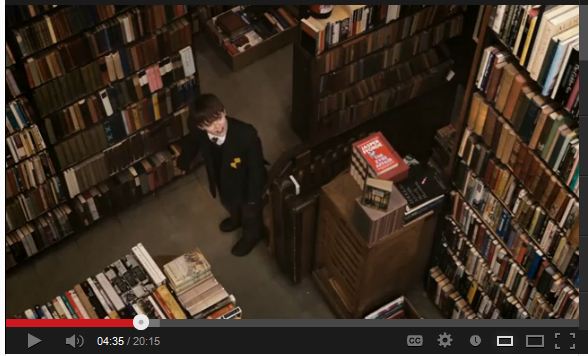 The beginning of the movie shows a world that is not that hard to imagine, no shops left and everything is online. A boy's screen has busted, he doesn't know what to do with himself so takes ends up wandering the streets. Everything is boarded up and you can tell it's just normal for him, all these boarded up shops.
He then discovers a bookshop, that's open and is confused by all the books, he's obviously never seen any before.
Now that's a scary thought, that our kids may get to a point where they've never read a book made out of paper! That they might not even know how to open a book.
Anyway, regardless of the point the movie is making, this is worth a view for the bookstore alone!
Incidentally, I really, really want to visit the

bookstores

used in this movie!